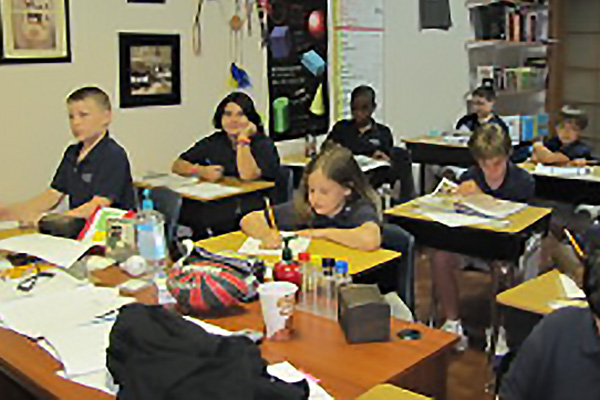 Core Curriculum
English / Language Arts
Students learn to think clearly and to express their thoughts in speech and writing. Literature is carefully selected and incorporates reading, comprehension, writing, grammar and spelling. Essay, Book Report and Research Paper writing are taught through our unique "Visual Design" approach and are combined with multimedia to facilitate a fully integrated approach to learning.
Mathematics
Students are given an understanding of logic, problem solving and deductive reasoning as related to everyday life. Through the distinctive "Aubacus System", emphasis is placed on understanding principles and methods, rather than on "meaningless" memorization.
Science
Students learn to develop and understand cause-effect relationships. Through experimentation and study, they learn to question, formulate and support a point of view. They evaluate findings and learn to draw conclusions. The basic structure of the science program is the application of the "scientific method", not only to science, but also to problem solving in life.
Social Studies
Students gain greater insight into the world through its social, political, geographic and biological aspects. This is accomplished through field trips, art, creative writing and hands-on experience.
Computers
All students work on computers, whether in English, Math, Science, Social Studies or Reading. Our computer programmers and staff collaborate to reinforce spelling, logic and problem solving skills, hand-eye coordination and following directions. Through learning how to access and use the internet, students gather information to write essays, book reports and research papers. Students are also exposed to and taught typing skills; word processing; visual and audio presentations; and spreadsheets.
Reading/Writing
Students are tutored and taught how to decipher and comprehend the graphic code of language. Both Impress and Choral Reading are built into the daily program. Students learn how to write descriptive, narrative and expository paragraphs; essays; letters; book reports and research papers.